Add/Edit staff members in your ArtCloud account
Allot staff members their own ArtCloud accounts.
NOTE: The email address used to set up your ArtCloud account is considered the Admin Account, but you can manage your staff in your Account Settings. To learn about pricing for adding staff members, please visit our Pricing Page.
Add staff members
From your Account Settings, look for the Staff tab and the Add Staff Member button. You'll then create a basic profile for your staff members and designate what information they can view and access within ArtCloud Manager.
You'll need to set an initial password for them so they can log in. Once they log in, each person can change her/his password on their own.
NOTE: Your staff should not create a separate ArtCloud account or you won't be able to add them as staff members. If you try to add someone and get an error message saying "That email address is currently in use," please contact us.
IMPORTANT: Staff members cannot register with an email that another account (be that another staff member or a gallery account) presently has.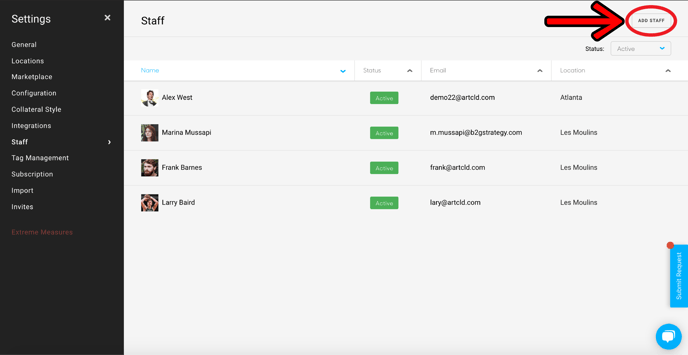 Edit staff members
To edit a staff member's information or permissions, hover over their name and click the Actions dropdown that appears next to it. Click the Edit button to open an Edit staff member popup.

Suggested Reading:
- How to set staff permissions, and what each permission controls