How to set staff permissions, and what each permission controls
Define the amount of control each staff member has in their ArtCloud accounts.
NOTE: The email address used to set up your ArtCloud account is considered the Admin Account, but you can manage your staff in your Account Settings. To learn about pricing for adding staff members, please visit our Pricing Page.
Staff permissions control what things specific staff members can see and do. Permissions can be accessed by entering the Permissions tab when editing a staff member.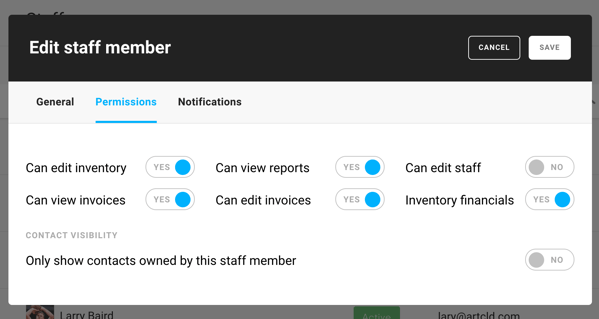 The toggles above control the following:
Can edit inventory - Allows a staff member:
- Access to Inventory overlay
- Visibility of Add Inventory button on the Inventory list
- Ability to Batch edit inventory
- Delete inventory from Inventory list
Can view reports - Allows a staff member:
- Access to all analytics pages
Can edit staff - Allows a staff member:
- Visibility of Add Staff button on Staff settings page
- Ability to edit/delete staff from Staff settings page
Can view invoices - Allows a staff member to:
- Create invoice from Purchase History tab on Contact overlay
- Create invoice from ribbon on Contact overlay
- Access Invoices list
Can edit invoices - Allows a staff member to:
- Edit fields on Invoice overlay
- Manage collections (commissions, items, payments, taxes) on Invoice overlay
- Delete invoice from Invoice overlay
- Delete invoice from Invoices list
Inventory financials - Allows a staff member to:
- Access Consignment tab on Artist overlay
- Access Payments tab on Artist overlay
- Access Financial tab on Inventory overlay
- Access Consignment overlay
- Access to Consignments list
Only show contacts owned by this staff member - When a staff member creates a contact, they "own" it. This option enables or disables a staff member's ability to see contacts they did not create. It allows a staff member:
- Visibility of All/Mine tab options on Messages list
Suggested Reading:
- Add/Edit members in your ArtCloud account