What are they? How do you turn a location inactive? What happens when a location becomes inactive?
All ArtCloud Manager subscriptions have 1 location included in their subscription, however, some clients have multiple locations that artwork records or invoice records are associated with but are no longer active. Since ArtCloud charges for multiple locations, we've added the ability to disable locations to make them inactive.

We include 2 free staff member accounts per location in all of our subscription tiers. For example, if there are 3 locations associated with an account, there are 6 free staff member accounts allotted. However, if a location from that account is made inactive, 2 of free staff member accounts allotments will be removed. The account will now be charged for 2 extra staff accounts (if these accounts are actively being used).
To learn more about our different subscription tiers and individual staff pricing, please feel free to visit our Pricing Page for more information.
Active vs. Inactive Locations
Active locations on an account are locations that artworks are coming out from and where taxes are being added to sales. Some galleries have multiple physical locations where there is active selling occurring from that location. These would be considered Active within ArtCloud.
Inactive locations on an account are locations that are no longer selling works from but that have historical records associated with the location, like invoices or artworks that were sold.
How do you turn a location inactive?
You can manage your locations from your Account Settings under the Location tab.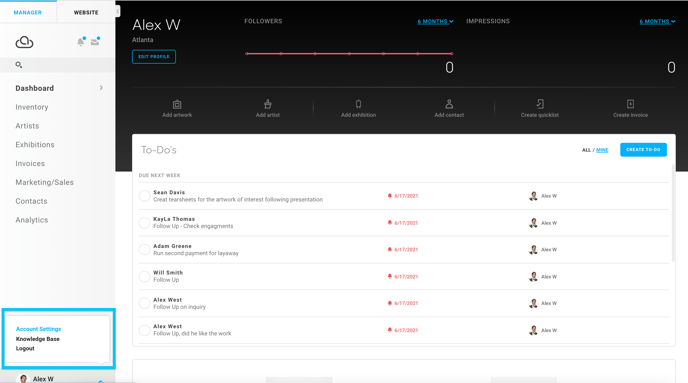 Once on your Locations tab, there's an Actions menu next to the location you want to adjust. After opening the Actions menu, you can select Edit to go into the Location record and enable or disable the location.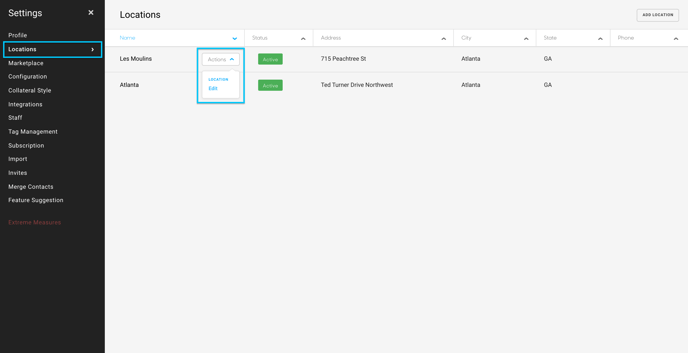 On the General tab of the Edit Location pop up, you can enable or disable the location to turn it inactive.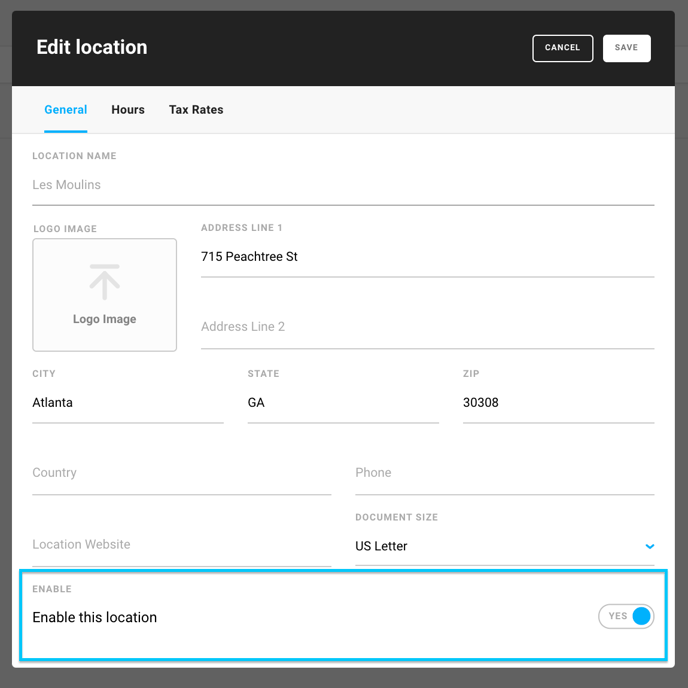 What happens when the location becomes inactive?
You will no longer be able to assign an inactive location to an invoice. You will not be charged for this inactive location, and you will not have any staff member accounts provided for this inactive location. You can add staff members to this inactive location, but your account would be charged for an additional staff member.
You will be able to see historical data -- financial (within Analytics) or inventory. If an inventory item is associated with this inactive location, you'll see this listed.