Integrations Management - Stripe
Stripe Payment Processing
ArtCloud integrates with Stripe to process payments through invoices, your website, or the ArtCloud Marketplace.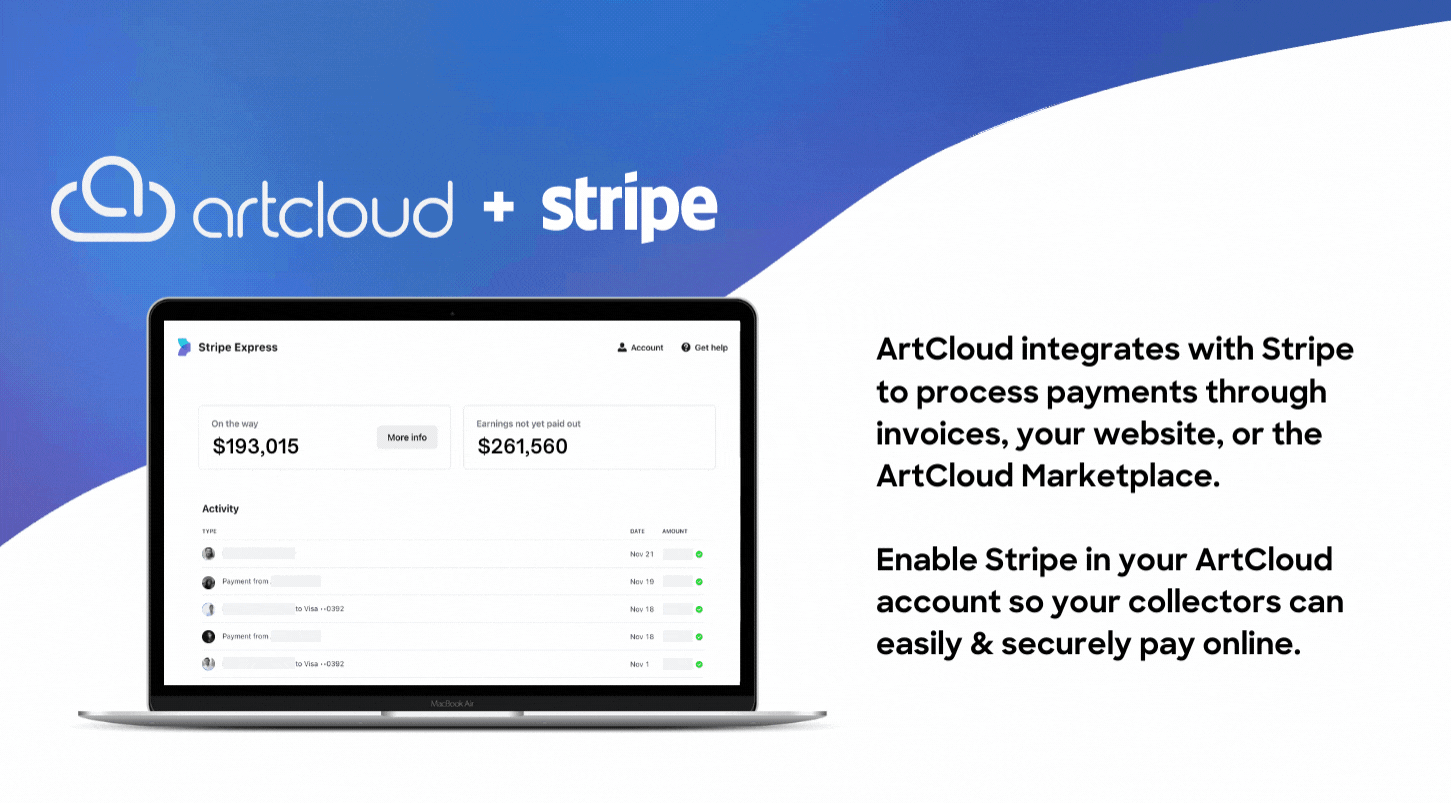 With ArtCloud, you can easily process client payments directly on invoices and your ArtCloud website through our integration with Stripe. Stripe is a user-friendly global web-payment processor, used by companies like Lyft, Blue Apron, and OpenTable to name a few of their 100,000 businesses.
Enabling payment processing will allow you to:
Process payments from ArtCloud Manager on your computer or mobile device
Send Open invoices to clients so they can pay online
Sell directly to your clients on your integrated ArtCloud Website
Sell directly to collectors on the ArtCloud Marketplace
Once a payment is received from the platform, the funds can take up to 3-4 business days to deposit into your account. Note that the first payout has a delay and can take up to 10 business days; this is part of Stripe's risk mitigation strategy.
How do I enable payment processing?
Enabling payment processing is quick and easy. All you need is your bank account information and your business tax ID number.
Enable Stripe from the Integrations tab of your Account Settings. Set the ArtCloud Stripe Payments toggle to on, and select your preferred currency. A series of prompts will appear from Stripe, which you will need to follow to aid you in creating your Stripe account.

NOTE: If you already have a Stripe account, please reach out to ArtCloud Support (support@artcloud.com) for assistance. Do not try to integrate your already-existing Stripe account through the Stripe Express toggle.
How do I disable Stripe payment processing?
Due to security purposes, we do not permit disabling of Stripe directly on the account. Please reach out to the ArtCloud team at support@artcld.com or live chat with us for assistance!